Accommodation in Czech Paradise
Selection of the best and also cheap accommodation for lovers of the Czech Paradise. It's ideal for ordinary tourists as well as demanding clients. Complete list of free places in the cottages orcondos in the localities of the Czech Paradise. The site offers you complete information about individual facilities, including interior views. We would recommend it to tourists who prefer cheap and quality accommodation, but also those who require comfort and luxury accommodation. Choose from our range: Inexpensive cabins and cottages in the Czech Paradise. Enjoy the beauty of the Czech Paradise and have your accomodation booked.
Search other regions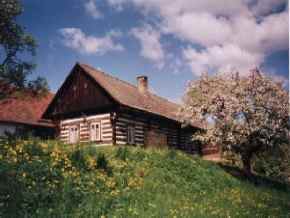 Stylová roubená chalupa až pro 9 osob v Českém ráji, krásné přírodní okolí - kolem lesy, rybníky, soukromí a klid.
Sobotka (Czech Paradise)

View on the map
In place of accommodation is good Šolc, Sramkuv house, church, castle and surviving timber Huprecht chalupy.Na proximity to the sights Kost, Hruba Skala, Trosky castle ruins and natural formations and rocks Prachovské Plakánek.http://penzion-sobotka.cz

Capacity: max. 13 persons

Vyskeř (Czech Paradise)

View on the map

HRUBOSKALSKO. Stylová zrekontruovaná chalupa ( až 15 osob,4 ložnice,či variabilně 2 samost. apartmány) s vynikající polohou uprostřed Českého ráje a výhledem na hrad Trosky. Bazen: červenec + srpen. Na vyhledávané cyklotrase Trosky - Hrubá Skála - Kost. V UNESCO.\r\n
Price from (Person/Night):
13 EUR
Capacity: max. 14 persons


Unikátní pískovcová chalupa s velkou oplocenou zahradou, kterou tvoří starý sad. Velkorysý vnitřní i venkovní prostor. Klidné místo na jižním svahu. Na zahradě houpačky, pískoviště, zahradní krb, zahradní nábytek. Od začátku června do konce prázdnin bazén.
Price from (Object/Week):
3900 CZK
Capacity: max. 10 persons

Libuň (Czech Paradise)

View on the map

.Penzion stojí vedle sportovního areálu kousek od rybníka. Ideální výchozí místo pro turistiku v českém Ráji.Pokoje jsou 2-4lůžkové s vlastním příslušenstvím. V objektu je velká společenská místnost s WIFI..
Price from (Person/Night):
380 CZK
Capacity: max. 55 persons

Turnov - Pelešany (Czech Paradise)
Atraktivně položená komfortní chalupa v lesoparku pod skalami a hradem Valdštejn.V srdci CHKO český ráj + přírodní rezervace \"Hruboskalsko\". Zlatá stezka přes Valdštejn,Hr.Skálu na Trosky patří mezi nejkrásnější.Turnov 2km.Kapacita 18(20)os.Bazen ,WIFI.
Price from (Person/Night):
12 EUR
Capacity: max. 18 persons

Cheap cabins and cottages Czech Paradise
Czech Paradise belongs from ancient times to the popular destinations of domestic and foreign tourists. It is situated between the Middle Bohemian plane and Giant Mountains foothills and it prepares a unique spectacle of the beauty of the Czech countryside to its visitors. Czech Paradise became in 2005 UNESCO Geopark, which only confirmed its importance. Romantic county of sandstone rocks, which has been the target of many achievements of filmmaking for its importance, attracts many tourists every year. Many of them stretch their excursions to more days so they can experience the unique atmosphere of accommodation as cottages and cabins in the Czech Paradise.
Check more objects


Send your non-binding request and get the best offer from landlords
We recommend
Cabin Havlatka
Adrspach Sand Rock Natural Reserve




Cottage Winterflur
Giant Mountains




Cottage U Josefů
Šumava